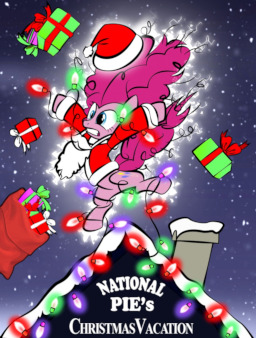 Source
Hearth's Warming Eve has come to Sweet Apple Acres again. The favourite time of the Apple Family, because of its festive cheer, plenty of good food, gifts and, of course, their beloved holiday traditions.
Pinkie Pie loves Hearth's Warming Eve, too. And this year, she is determined to make it extra special and memorable.
For the first time ever since Applejack and Pinkie found out that they are cousins, the Pie Family is visiting Sweet Apple Acres on Hearth's Warming Eve! It is a momentous occasion in the history of their lineages and momentous occasions require precise planning and a flawless execution.
That's what Pinkie Pie thinks, anyway. As far as she is concerned, the first shared Hearth's Warming Eve of the Apple Family and the Pie Family on Sweet Apple Acres has to go down perfectly.
And no amount of holiday madness, family drama or unexpected guests will stop her from making this the best hearth's warming holiday both families ever had!
A wacky holiday story inspired by "Best Gift Ever" and "National Lampoon's Christmas Vacation".
Chapters (1)