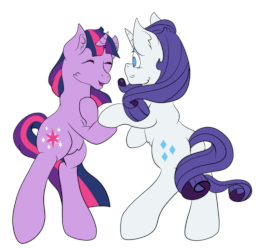 Source
Rarity spends time with the love of her life, Princess Twilight Sparkle, at the annual Hearth's Warming Ball.
Nothing will interrupt their dance, not even a changeling attack.
----------
Written for Jinglemas 2019, for the very lovely and author of the Best fimfic story at Bronycon 2019, Miss Monochromatic! There was no pressure for this story... nope... none... at all... OH God I'm still freaking out please don't hate it or me.
Cover art used without permission, so any issues I will remove. By bewarethemusicman.
Edited by the wonderful Pascoite, Anon Y Mouuse, and Moonshot.
Chapters (1)