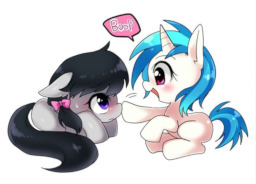 Source
I laid awake, staring at reflected light from the window on my ceiling.  Tomorrow was going to be important, I knew I should try to sleep, but it was being difficult.  On the other side of the upper floor she slept, in that room for the last time. It was never going to happen, but I worried that my breathing, maybe even my heartbeat, would wake her.
I spent the whole time thinking, about our past together, the good times, the fights, everything we said we would do together.  I remembered it all, and one by one, let it go. It didn't matter anymore, none of it. Tomorrow, Vinyl Scratch was going to leave, and I would never see her again.
---
Story is canon only up to the end of Season 4. This story also uses the original fanon last name for Octavia, because I like it better.
Chapters (35)