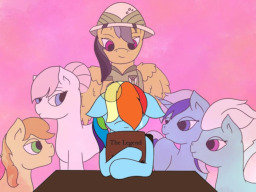 Source
With Hearth's Warming comes the painful anniversary of the death of Daring Dash, the younger sister of Rainbow Dash. Three years after her death, Rainbow stumbles across a strange interactive adventure novel written by her sister and enlists the help of Twilight Sparkle to bring it to life. What follows is the adventure of a lifetime, as Rainbow comes to realize how little she actually knew about her sister. And maybe, through a crazy tale of magic, monsters, and heroes, she can find some closure as well.
(Rated Teen for brief violence and profanity)
---
"This story left me emotionally destroyed. It gets a stranglehold on your heart, and never lets go. I was left a sobbing, heart-warmed wreck after reading this, and I absolutely recommend it to anyone who happens to look in on this thread. It's quality cannot be overstated. For anyone who checks out these threads, read this story! Review: 11/10, would weep myself into a coma again." - Ninjadeadbeard
"I FREAKING love this story, but at the same time I hate this story. I don't hate it for being bad. Oh no, I hate it because I had to actually control myself from crying more than I did from reading it. " - Nailah
"While The Legend of Daring Do didn't make me cry because I'm an emotionless robot (beep boop), this story is sure to tug the heartstrings of those who enjoy emotional stories, and the fanfic offers an interesting enough character interpretation of Rainbow Dash and Daring Do to be more than serviceable for those looking for a compact, cozy adventure." - Seriff Pilcrow
Written as an entry in the Holiday Contest hosted by No Author Left Behind, where it placed second.
Beta read and edited by the wonderful EverfreePony.
Cover art comissioned from Snow Quill! On Derpi
A work heavily inspired by and written as a tribute to the play She Kills Monsters by Qui Nyguen.
---
Main Characters: Rainbow Dash, Twilight Sparkle, Daring Do.
Secondary Characters: Nurse Redheart, Minuette, Fleetfoot, Braeburn.
Background Characters: Blossomforth, Cloud Kicker, Raindrops, Hoops, Score, Dumb Bell, Dr. Caballeron, Changelings, Applejack, Spike.
Chapters (20)