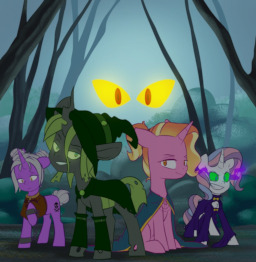 Chrysalis was certain that it was the time to birth a successor to the throne after capturing all of her enemies. But her reign came to a swift end and she could no longer abstain the birth when she had finally begun. Her child was born under her sole protection. No changeling army to ward off her foes, no secure hive to leave her child in with complete safety.
But then she established a truce with Tirek and Cozy Glow and together they had attained the power of Grogar from the legends. Before her successor would hatch from its egg, she will attain a kingdom that is befitting of the next queen...But in the end, she failed yet again.
Peace was struck amongst many creatures in Equestria and they have lived plentifully of years of harmony and happiness. But what of the egg that only Chrysalis knew of? The egg that was now orphaned due to the power of friendship.
---
---
Next:
Progress: 14/27+
Chapter 15: Monster Brawl
---
Cover art commissioned by Doodle-Mark
---
Editors:
Chapters (15)