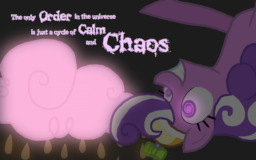 A slightly different take on everypony's favorite daughter of Discord. We've all noticed the similarities between Screwball and one of the nurses at Ponyville Hospital, but what if there was a connection to another nurse as well? Discover what would make a pony want to lose herself in the wonders of chaos, and take a glimpse into what it was like for the rest of Ponyville's citizens when their home became the next "Capital of Chaos."
And oh yeah, and there's a Fillyfooler love triangle. You all love Fillyfooler love triangles, right?
Cover image used with permission by highray on diviantART.
Chapters (8)