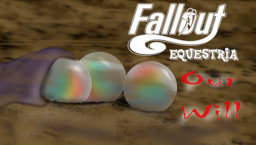 Post-war Equestria. Some ponies spend their entire lives fighting the wasteland. Others, are dropped there.
Born and raised above the cloud curtain, the anxious First Lieutenant Sienna has been unwillingly sent to the wasteland by her commanding officers. With Sienna the only survivor of the mission, she must find a way to survive the harsh, deadly environment of a new Equestria. Not only that, she must find a strange treasure known as the Rainbow Pearls and protect her new-found friends from a bigger threat, the Hope Coven. With her new friends, new enemies, and new mission, she will have to get it together to keep Equestria from further harm.
That is, if she doesn't have an anxiety attack!
*****This is a rewrite of my original story, Fallout Equestria: Our will.*****
---
For Mom. You did help me, even when you think you didn't. I love you.
Chapters (39)