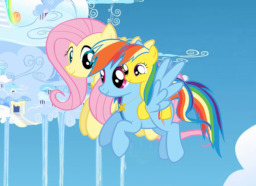 Source
Rainbow Dash has everything she could ever dream of and more, great friends, her own family and the chance to become Equestria's greatest Wonderbolt. But what happens when everything falls apart?
It all started with the arrival of a family pass to see the Wonderbolts perform live...
Oh hiatus till I find the time or support to continue this.
This fic is cannon with my other story 'Crashing Angels' and contains Flutterdash, and Soarinfire shipping.
Cover image is thanks to Rainbowshy1241.
Edited by DinoManDraves.
Chapters (1)