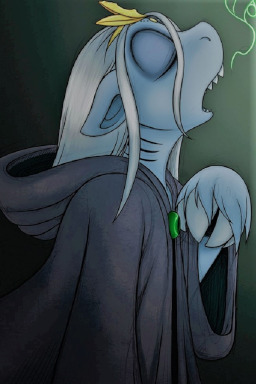 Source
Eleanor May Carter was a lonely, human girl from our universe. A girl with a love for comic books, video games and cartoons.
One night, just after the ending of one of her favorite shows, Eleanor made a wish upon a star, wishing to find where she truly belongs.
The next morning, she finds herself reborn in a family of anthropomorphic ponies, and makes friends with The Boy Wonder, an athletic cyborg, a kind-hearted alien princess, a shapeshifter and a troubled Azarathian.
Let us join Ellie, as she wakes up in a world were My Little Pony and DC Comics Teen Titans coexist, and joins her adventures with the young sidekicks, as she discovers a world where she truly belongs.
---
Cover Art belongs to R-i-Perils.
Anthro Pony Design belongs to StasySolitude.
My Little Pony: Friendship is Magic belongs to Lauren Faust, DHX Studios and Hasbro.
Teen Titans belongs to DC Comics, Cartoon Network, Glen Murakami and Sam Register.
Hope you enjoy it. ^_^
Chapters (4)