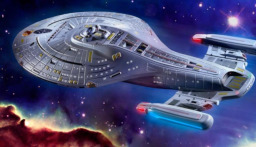 Torn from the Alpha Quadrant in 2371, The USS Voyager and her crew have been navigating their way through the previously uncharted Delta Quadrant. After four years of traveling, The crew is alerted to radio transmissions originating from a planet in the Equis System.
In that same system, an unicorn is staring up at the night sky, wondering if there is anything out there. Nopony could have predicted the events that would come to pass within the next few days, nor the consequences that would follow.
Thank you to discranola for proofreading.
Chapters (1)