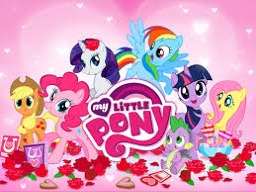 Disclaimer: This includes my favorite ships. Please do not hate, troll, etc. If you do not like, or can't handle: Fluttercord, Sordash, Caparity(Rarity x Capper), Applespike, Cheesepie, or Flashlight, I suggest that you don't read this then.
This is a story special for Valentine's day.
So, the Main 6 are having a regular everyday tea party. But, every pony knows that you start talking about one thing, and you end up talking about another. They even play some truth and dare, which goes along nicely with the topic of conversation. And Hearts and Hooves day is in a few days. This gets really busy. A lot of back and forth.
This contains my ships plus mention of a couple side ones. sides are not my usual ships, just ones I've heard of, or like, just not as much as My original ships
Chapters (3)