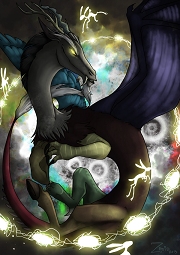 Source
Decades after the founding of Equestria, the nation faces an existential threat -- a war with the dragons.
The dragons have proposed a truce. Luna and Discord are uncertain, but Celestia insists that they must give the dragons the benefit of the doubt, and accept the truce.
This turns out to be a mistake.
Cover art is "The Chaos" by Zhoid.
Chapters (1)