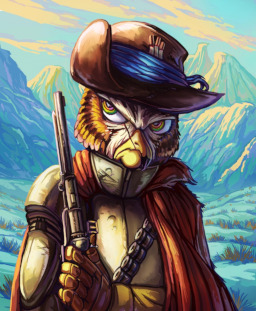 The bounty hunter Jean De Basse has been forced into a contract by Governor Muck of the Griffon Frontier and the corporate lackey Edwin Clay of General Petroleum . A contract so valuable, so lucrative, that half of its reward could fund Frosthill for another five years.
Join Jean in his first misadventure as he is thrown into a hunt far beyond his expectations. He must navigate an increasingly impossible contract in the face of sinister machinations lurking in the shadows.
This job will take him from one end of Equus to the other, through the thick of the fighting, the shadows of tyrants, and the light of unsung heroes.
For now though, all he has to do is escape from Azkaban, target in tow...
---
Set in the Equestria at War universe.
Received special mention in for Third Annual Equestria at War Write Off!
Amazing Art done by: JowyBean!
Sequel Story: The Prench Connection
---
(EDIT): Title changed to "Escape from Stalliongrad" due to several instances of confusion!
Chapters (1)