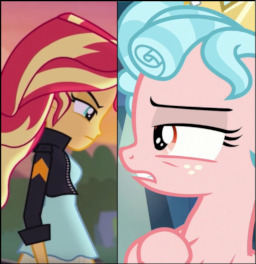 Source
This story is a sequel to Three Second Chances
---
Despite all attempts, Cozy Glow still hasn't been shown a path to friendship. No pony has been able to get through to her, and she's only gotten worse with each attempt.
Reluctant to return the filly to stone again, Princess Twilight has one last option. One pony she hasn't tried. Or in this case? One person.
Sunset Shimmer.
Can Sunset do what no pony has been able to?
---
This tale is a spiritual sequel to Three Second Chances, by popular request. It follows the spirit of that tale, but is not a direct follow-up and so no prior knowledge is required.
Featured: 11/27/2019, 12/13/2019, 1/9/2020, 1/23/2020, 1/30/2020 and 2/6/2020!
Chapters (12)