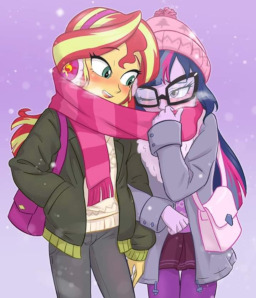 Source
Edit- 10/29/19: Wowza! This fic made it to the top of the popular section!
(Yes, I know. Another Anon-A-Miss fanfic, you thought. Well, it's just my take on the Christmas special, inspired by the other Anon-A-Miss fanfics so please bear with me if you find this boring or cringey. Feedback is encouraged though!)
With the embarrassing secrets being leaked in MyStable by a user known as Anon-A-Miss, everyone believed that it is Sunset who's behind the secret stealing and leaks that led to their humiliation. Sunset tried everything to prove her innocence, even going as far revealing her browser history but to no avail. No one believed her, not even her friends.
Now Sunset is all alone and has no one to talk to, no one to hang out with, no one to believe that she is innocent.
Sunset thought she is all alone until she met a very familiar face and friend that will turn things around for her.
Chapters (10)