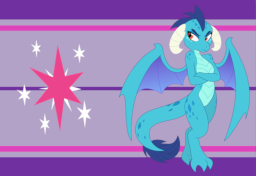 Since the day she ascended, Dragon Lord Ember has strived to move beyond the shadow of her father's rule. She's pursued some strange things to achieve this, perhaps none more strange than forging a close friendship with Twilight Sparkle, now ruler of Equestria. They've exchanged hundreds of letters over the years, growing closer and more familiar to each other with every one.
Ember knows her feelings for Twilight have changed, but the distance between them had provided an easy excuse to ignore them. Had, because with a summit between the Dragon Lands and Equestria starting, Ember and Twilight have the opportunity to once again enjoy each other's company.
And Ember is not the only one trying to come to terms with her feelings.
---
Ember vector by tyler611
Chapters (1)