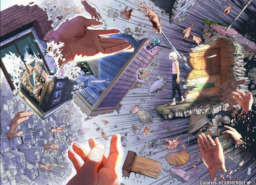 Authors Note: This story is a Spin-off to A New Destiny. Takes place after MLP The Movie.
---
Fluttershy thought she had seen everything, that she has explored the whole world of Equestria with her friends and helped spread the magic of friendship. But when she returns home after the defeat of the Storm King, she encounters a stranger in her cottage who sends the shy pegasus on a one way trip to another world. A world where she meets creatures of incredible powers and abilties unlike any other, a place of dreams and nightmares, a realm with beings who are Displaced.
Now with no other choice, Fluttershy and her new companions she meets along the way, must reach the capital of this new world so that she may be able to return home. However, there are those that reside within this new world that don't want her to.
Chapters (1)