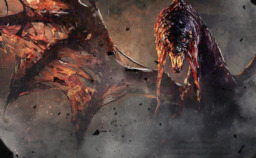 Source
[Displaced] A high school boy named Jhon went to a comic con as the freakin' Vaal Hazak, got awkward with the merchant and get transported to equestria because of it. First time fic.
After getting sent to Equestria [Timeline : Before Discord's rule], in a place unknown but familiar to him in one of the most isolated place in the Everfree Forest. A Vale, a Rotting Vale and instantly become it's master by controlling the miasma and dead corpses laying around. After some chapters the Main timeline will kick in.
Rated Teen because it may contain "details" (In a gore sense of course, no clop because with a rotting dragon? No, i don't think it's posible unless very very specific fetish) but overall not too gore.
Contain some gramar fails because I'm bad and may get cancelled after one month because i maybe won't have the energy to finish it (I'm too lazy to do whatever there is in a good fic that makes it a good fic, also because I'm doing it just for fun).
Image Source. I do not own the cover image.
Edit : All the chapters after 'The Lair of the Beast (part 2)' will be edited by Crimson Arrow.
Monster Hunter World is owned by CapCom. (Please don't end me)
Chapters (17)