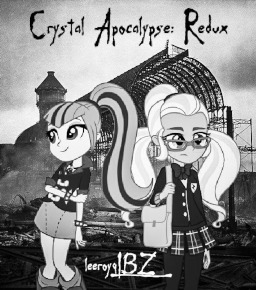 Source
Civilization has fallen, and only the burned-out ruins of Canterlot City remain. Now desperate survivors scavenge out a meager existence under the shadow of King Sombra and his legion of psychotic raiders and crazed warlords. Sugarcoat finds herself transported into this grim world after being a locked in a police car for a night and she determined, with Sonata's help, to save her friends or, failing, just to survive…
Updates Fridays.
---
Thanks to:
CuttleFishGod for the amazing cover art.
fluttterjackdash for the quality editing.
This story is a total rewrite of the original Crystal Apocalypse and it is set in the same continuity as Rarity's a Sociopath, only that it shares the canon and has some of the same characters. Prior reading of either, while appreciated, is not required.
Chapters (3)