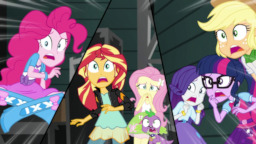 Rainbow Dash has been sent to the principal's office, yet nobody knows why. As theories emerge and gossip spreads throughout the halls, the students of Canterlot High spiral into chaos as they work toward a common goal: finding the truth.
A story told through texts, emails, and other media.
---
Additional tags: Lyra, Bon Bon, Sandalwood, Micro Chips, Flash Sentry, Zephyr Breeze.
Chapters (16)