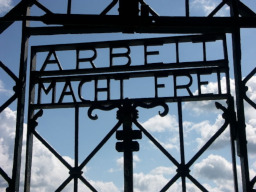 This story is a sequel to My Neighbor
---
In 1945, First Sergeant John Arrow liberated Dachau. Seventy-five years later, he sits down with Rarity and remembers the Holocaust.
---
Content advisory: contains explicit reference to genocide, but shies away from graphic descriptions of the precise atrocities.
This story is dedicated to those who suffered the horrors of the Holocaust, to those who survived and those who did not. In Memoriam.
It is also dedicated to those who have fought to prevent such evils from ever happening again. For any veterans or others living with that trauma, I've placed a link for the veteran helpline, a link for the suicide hotline, and link for international crisis lines. There is no shame in needing to talk to someone. No one should have to bear this alone.
---
Other stories in this canon:
My Neighbor
Their Neighbors
Public domain picture by Dorsm365 from Wikimedia Commons
Original characters are my own creation. My Little Pony and its contents are the property of Hasbro, Inc. and its affiliates. Please support the official release.
Chapters (3)