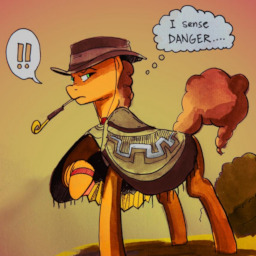 Source
Cheese Sandwich walked a long, unbeaten path in the years after Pinkie Pie introduced him to his calling as a party pony. He wandered throughout (and beyond) Equestria, spreading joy to others while also trying to find her again.
But the danger of unbeaten paths is that you can get beaten on them, especially when crossing paths with a deadly and determined seeker of the legendary Alicorn Amulet...
---
This story took second place in the September 2019 'Friendship is Short Shorts' Writeoff, "Uncharted Territory."
Chapters (1)