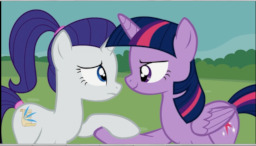 Source
It's no secret that Spike has a crush on Rarity - and it's no secret that it's going nowhere. How could a fabulous seamstress love a tiny dragon?
But Spike has a plan. A cunning plan.
By feeding Twilight all of his material, he can profess his love for Rarity through another - another that she might find more acceptable. And perhaps win her heart that way.
Or at least, that's what he tells Twilight he's doing.
---
Written for Monochromatic's RariTwi Bomb.
Now with a Chinese translation by ambrose28!
Chapters (1)