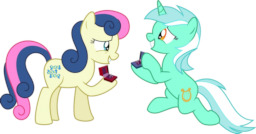 Source
With their ten year anniversary fast approaching, Lyra is busily preparing to ask BonBon a very big question. But when chaos engulfs Ponyville once again, all of her plans are turned upside-down.
Sometimes though, it's the things you can't plan for that mean the most.
---
Directly follows events shown in episode 9x23 - "The Big Mac Question"
Pre-reading assistance from the amazing Winston!
Chapters (1)