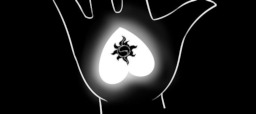 Source
Me and my best friend were watching T.V while some crazy people were burning a house in the distance. We just sat there until I appeared in a black void, and was greeted by the old Royal scientist, from Undertale, himself. After conversing with him for a bit, he offered me a deal, and I took it. Now I have to help him in an experiment, an experiment that'll help him escape his prison. Now that I think about it, I probably should have considered the fact that over 100,000,000,000 people felt like refusing said deal. But come on, how bad could it possible be? I mean, the dude was thoughtful enough to give me the ability to use Monster magic, though having a monster's body in a human populated world might be a problem. Especially since I'm not the first one here, nor the first person to take Gaster's deal.
---
I probably should have stated this earlier, but this isn't a Displace Story. That being said, that's only at the moment. That could change in the future, but at the start, I never intended for it to be Displace. Though I can see how people could make that mistake.
EDIT: On the matter of whether or not Manny is a displace.
EDIT 2: It's really important to read about the Save Points when considering a crossover. Please click the link after reading the one before this.
Edit 3: After a lot of thinking, I decided I'm not gonna include this in the whole Displace thing. It would be too difficult to keep track of what the non-canon did and experienced in other stories.
Chapters (24)