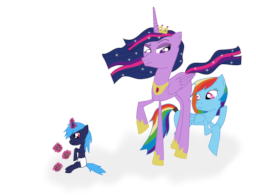 The unexpected has happened to Rainbow Dash--she's given birth to a Unicorn! She's completely lost on how to take care of her new magical child, so she turns to the resident magical expert--Twilight Sparkle. Twilight's so busy with her royal duties that she didn't even have time to visit her friend in the hospital, let alone help her raise her children!
Well.....she's got to try, hasn't she?
Cover art by me
Ship warning: This fic supports FlashLight. If you don't like that ship, there's no need to start a war in the comments.
Chapters (6)