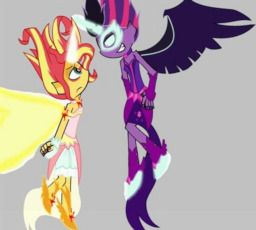 Source
The break-up of Sunset Shimmer and Twilight Sparkle.
Told through the eyes of thier fading Inner Demons.
One willing to change and experience the world.
The other seeking the darkness of routine to fade into.
Growing up, never promised staying together.
---
Submission For Oroboro's Sunset Shipping Contest Endings.
Please Feel Free To Leave A Comment.
I Disable Ratings, Because I Feel A Story Should Be About The Experience, Not Gratification.
Chapters (1)