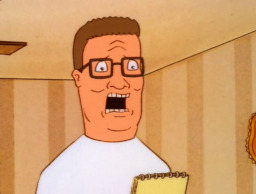 Featured January 26, 2020
Set between MLP Season 1 and season 2
Hank Hill is a traditional man, with traditional ideas on what guys and girls should enjoy.
To say he is mortified by Bobby playing with unicorn dolls is an understatement.
Taking Dale's advice, Hank drags Bobby to a survivalist camp to toughen him up. After a strange accident, he finds himself stuck in an equine world and stuck in an equine body, to his utter consternation.
Thankfully, he manages to find shelter and work among the Apple family. Who, to his joy, represent the values of hard work, self-reliance, and traditional roles.
Or do they? Hank may learn from Sweet Apple Acres' manager that there is more to being a man than just holding up a traditional idea. And that courage takes many forms.
---
The Apples on the Hill is a King of the Hill/MLP Crossover. All rights reserved to Hasbro, Fox News, and Mike Judge.
Warning: Rated Teen for excessive desires to kick asses.
Chapters (5)