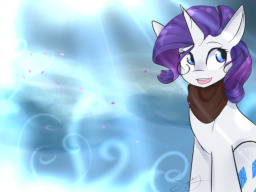 Source
A troubled colt with poor boundaries, bad language, and what seems to be a very troubled past is sent to reside with Rarity, a mare unprepared for true motherhood as well as being unknowing of how to raise a foal of a different gender. A long road ahead awaits them both.
---
Rated Teen for adult language and strong sexual references and situations. No sex occurs in this book.
As appropriate, this is a societal gender reversal role story; so expect some differences than what you may be expecting as far as gender authority is balanced.
This story is inspired by many other stories, most of which are incomplete and stopped years ago; never to be updated again(?).
Also, this story takes place before Alicorn Twilight.
Chapters (34)