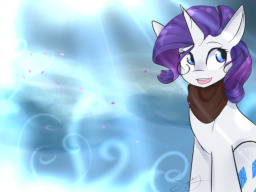 Source
A troubled foal with poor boundaries, bad language, and what seems to be a very troubled past is sent to reside with Rarity, a mare unprepared for true motherhood as well as being unknowing of how to raise a foal of a different gender. A long road ahead awaits them both.
Rated Teen for adult language and sexual references. No clop occurs in this story.
As appropriate, this is a societal gender reversal role story so expect some differences than what you may be expecting.
Supplemental chapters use a 'psychological' form created and used with permission by and from Minalkra. This story is inspired by many other stories, most of which are incomplete and stopped years ago; never to be updated again(?). I, personally, like to see Rarity as a foster mother.
Chapters (4)