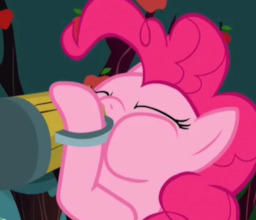 Source
Sometimes, the easiest way to get through the toughest situations is through alcohol.
Okay, that's not really accurate. But sometimes it helps. Especially when Twilight's got something to think through and it's been a long day and really, isn't it okay to puzzle through things at a bar at like 1am if you've got a friend there? It's better than drinking alone, and it isn't like she's drinking to forget her problems if she's trying to solve her problems instead?
Pinkie doesn't really care one way or the other. She's there for the cider.
Thanks to my girlfriend, my girlfriend, my girlfriends' boyfriend, my girlfriend's crush, and this dude I know for helping with editing and being supportive. You're all nerds.
Chapters (1)