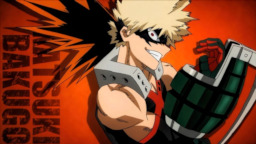 Dress up as Bakugo Katsuki. Go to anime convention. Be in the wrong place at the wrong time.
Years pass and I make a name as a mercenary with a temper and a want to play hero. Aside from that? Nothing much, got a home in a place called Appleloosa that I haven't been back to in around a year or so. But now, now I'm fighting a war thanks to an asshole trying to take over the world and being 'offered' a job by the royalty of the land.
I still get to blow things up so what ever. The only thing I can say that I want is my original gender.
Chapters (3)