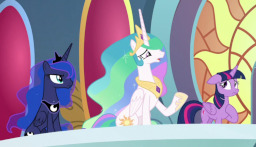 When an "unknown being" is discovered near Canterlot, Princess Celestia and Princess Luna send Princess Twilight Sparkle to find and bring it to the Royal Castle.
The "being" turned out to be a "brony", who somehow ended up in Equestria. When offered the chance to ask questions, he takes it by asking a lot of questions. None are about how to get back to his world, but they instead are about the trio's "questionable" moments.
He might be surprised by what he'll get for asking those questions...
This is an "E" rated version of my "Sunbutt, Moonbutt, Sparklebutt, I have Questions" story. This will have a different ending than the "original" version does.
Here's the link to the original "T" rated version of "Sunbutt, Moonbutt, Sparklebutt, I Have Questions" if you'll want to check it out and haven't read it already.
Chapters (1)