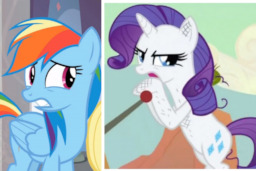 =Based off the end scene of "The Last Roundup", MLP Season 2 Episode 14=
Y'know how Twilight tried to tell Dash she should go after Rarity and Pinkie after they got knocked out of the wagon? Dash's comment? "They knew what they were getting into!!"
So they got left to find thier own way home and Rarity was far from happy about it. On thier return, she storms over to give Dash a very large piece of her mind.
Yeahhhhhh...Dash really should have gone back.
Chapters (1)