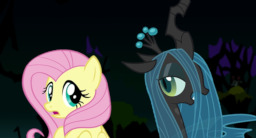 Source
This story takes place immediately after A Canterlot Wedding - Part 2.
How far would Fluttershy go to save a life?
What would she give to deliver redemption?
When she is faced with a critically injured Queen Chrysalis, she has to make life changing decisions that will test her beliefs to the limit, and beyond.
Chapters (6)