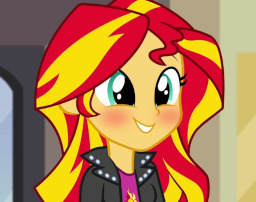 This story is a sequel to Romantic Meetings
---
Jake Taylor had been living in Equestria for four years with ponies and other creatures...but mostly ponies. Either way, there were no humans. But Jake couldn't care less. He had two of the most beautiful, most amazing marefriends anyone could ever ask for: Twilight Sparkle and Starlight Glimmer. He doesn't need humans to be happy.
But one day while in the library, when Jake meets an admittedly attractive unicorn named Sunset Shimmer, who claims to be from another world full of humans, Jake starts to have second thoughts.
---
So, obviously, this is that story I was thinking of. Unlike Romantic Mischief, this will be exclusive for me and Peni Parker to work on.
Speaking of which, huge shout-out to Peni Parker for inspiring this story with one of your chapters. I'm obviously starting with the same two chapters from Romantic Mischief, but I won't take those down in case you guys just want a laugh
Chapters (12)