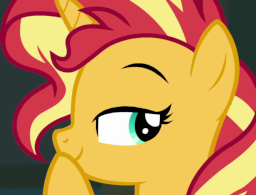 This story is a sequel to When Dating Advice Doesn't Work...
---
After being rejected by a mare he formed a crush on two weeks ago, Eric Reed starts to develop feelings for another mare, Sunset Shimmer. But fear of being rejected again, because of his "real-life" appearance, makes Eric hesitant to put himself out there to try to ask Sunset out.
Will he conquer his fear and ask Sunset to go on a date? If he does, how will Sunset, who's oblivious to her friend's changing feelings toward her, react?
And if she indeed says "yes" what's next for the two?
This story (obviously) has continuity from the story "When Dating Advice Doesn't Work..." story. However, enough will be explained to not require reading it to understand this story.
Both stories also take place after the events of my "A Giant Adventure to Equestria" story. But it is not required to read it either to know what's going on in this story, other than to learn how and why the human character Eric Reed is in Equestria, and how his bonds with the Equestrian characters formed. However, here is the link if you would like to check it out, and it is a 18-chapter story.
A Giant Adventure to Equestria
Lastly, special thanks to TheHardie-Boy for suggestions to the story and proofreading chapters 1-4 and flutterJackdash for helping me edit chapter 6 onwards
Chapters (18)