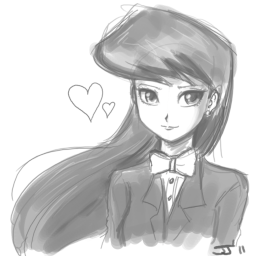 Source
This story follows Cupid Mark Crusaders, but it can also stand alone nicely.
---
Vinyl Scratch was the quiet kid at Canterlot High. She didn't speak in class, walked too fast to keep up with in the halls, and generally tried to be as invisible as possible. So far as most people could tell, she had no friends and wanted none.
But even as a Junior, when the parties were thrown, her talents as a DJ were in demand. Nobody doubted that she'd be a pro someday.
Which also meant that, when she was at the turntables, she couldn't get away so easily. And that gave Octavia the one and only chance she would ever have.
Entered into Artist's Contest.
(Part of the Sunset Rising continuity.)
(This timeline continues with A Smashing Good Time.)
Chapters (1)