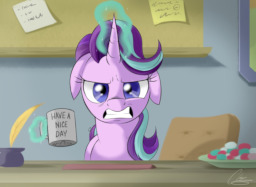 Source
"The stars are GONE!" Twilight declares at an emergency faculty meeting at the School of Friendship. Is it an impending apocalyptic disaster... or is this a classic case of Twilighting? Starlight's got a guess...
WINNER of the 1st "Quills and Sofas" Group Speed-Writing Competition!
Also, may contain some real gripes from a real high-school teacher who knows some academic horse-hockey when he sees it...
Cover image used with permission from OinkTweetStudios! Check 'em out, they do awesome work!
Chapters (1)