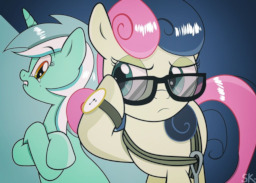 Source
Lyra has a secret. She can't wait to tell Bon Bon! 
Bon Bon has a secret. Bon Bon has many secrets, actually. She'd like it if all her secrets remained hidden in the past.
But secrets have a nasty way of coming back when you least expect them.
After an unknown stallion visits the sweetshop, Bon Bon's secrets come flooding back, and Lyra is swept along for the ride. She's in for the adventure of her life!
Chapters (22)