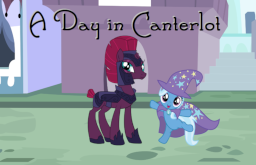 Source
Fizzlepop Berrytwist suffered a terrible tragedy as a foal and nearly lost her way until a chance meeting with Shining Armor showed her another path in life - as a member of the Night Guard of Luna. However, in her efforts to prove herself as being up to the task of being a Night Guard, she has pushed herself practically to the breaking point. As her commanding officers try and sort out her unique situation and if the Guard really is the place for her, she is given a simple assignment: keep an eye on Trixie Lulamoon, Princess Luna's new apprentice, as she spends a day in Canterlot.
This won't end well...
A Lunaverse story, and a prequel to the main series. However this is being written in such a way that new readers should have no trouble diving in.
Chapters (1)