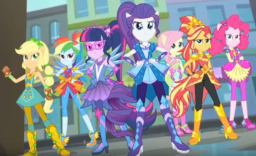 The summer after graduating from Canterlot High five years ago, Sunset and her friends saved the world from a super villain who called himself Grogar. The repercussions of that event made it the last time they could all stand being in the same room as each other.
But now Canterlot City is holding a commemorative ceremony in honor of their victory, and Sunset's husband Time Turner has convinced her that they should go.
She really should've tried to come up with a better argument for staying home.
My entry in Oroboro's Sunset Shipping Contest: Endings, this story didn't make the Top 10.
Chapters (3)