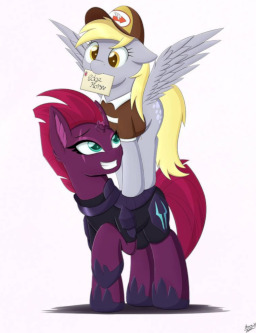 Source
This story is a sequel to The Princess's Captain
---
There are more characters in The Princess's Captain than just Twilight Sparkle and Tempest Shadow. This will be a repository for stories that don't feature our main pairing quite as heavily, that take place in the middle of other stories, and/or that are simply not as important to the main plot. Every one of these stories is canon, however, so the reader is advised to keep up with them! Standard warnings from The Princess's Captain apply here, as well. See below for timeline information.
---
Cover art by Arcane-Thunder!
---
Down to Brass Tacks: Twilight and Tempest are summoned to Canterlot by the Cutie Map. Takes place after chapter 8 of A Princess's Trials.
Chapters (1)