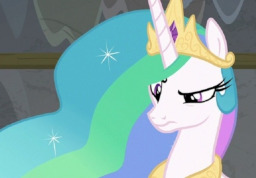 AU where the Cutie Mark Crusaders "Help" Princess Celestia instead of Cheerlie when they spot her in the Date Park. However, they have no idea that she brought along her sister as a companion instead of a would be stallion...
( Rated T just to be safe. The writers and content of this story do not condone Incest. This story is only meant for humor and Princess Celestia and Luna ARE NOT dating. It is a huge misunderstanding that leads to hilarity and wacky high-jinks.)
EDIT: Holy Celestia, this is already featured?! Thanks a bunch!
Chapters (1)