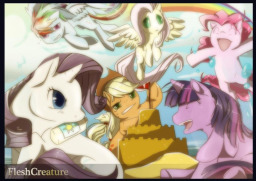 Source
The Mane Six have a day at the beach...that's totally all that happens. Seriously.
Just a quick, simple little fic I wrote to write something quick and fun to just relax...because it's been SO long since I did that.
My Little Pony belongs to Hasbro!
Thanks to https://www.deviantart.com/fleshcreature for the cover art.
Chapters (1)