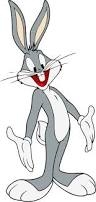 Source
Angel Bunny is... quite the outlier among Fluttershy's critters.
Almost all the creatures that Fluttershy interacts with become as sweet and lovable as she is. Yet Angel Bunny, despite being Fluttershy's most beloved pet, couldn't be anymore different in temperament and disposition from the Element of Kindness.
Well, once upon a time, Angel Bunny had been as timid and cuddly as Fluttershy.
However, one bad day and an encounter with a certain trickster taught the young rabbit that sometimes violence IS what is doctor ordered.
An MLP/Looney Tunes Crossover.
All rights reserved to Hasbro and Looney Tunes.
Chapters (1)