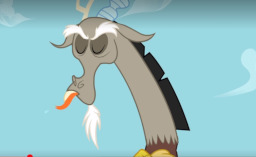 After dying in a predictably stupid car accident, a human wakes up paralyzed and unable to see or feel anything... which seems reasonable for the aftermath of an argument with a truck, until Celestia starts talking and he figures out that he's dreaming that he's Discord. And then the Elements set him free and he figures out no, actually, this isn't a dream. Begins right before "Keep Calm and Flutter On", and the first few chapters crib a lot of dialogue from that.
Not Displaced, but it is one of those "human wakes up in the body of an Equestrian supervillain" stories. However. Fellow Discord fans. Trust me, I'm not gonna write a story about our boy where the real thing never makes an appearance. The actual Discord will show up sooner or later. Also not a self insert, as should be obvious if you listen to the main character talk about himself for about 30 seconds.
This is a commission for The Bird, but the original story idea was mine and I take credit for everything except the impetus to actually write the damn thing.
Tags are a complete guess, I actually have no idea how to tag this thing.
Chapters (3)