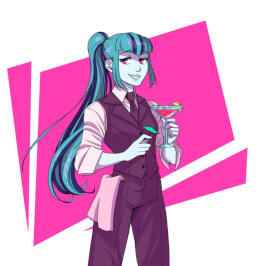 This story is a sequel to Rules of Etiquette
---
In the City of Canterlot there is a bar, a very singular bar, that is tended by a singular bartender. The Bar of the Last Note Lounge is a place where a person can order any drink and get exactly what they wanted and needed, in exactly the right way, and the ability to do so is something that Sonata Dusk prizes.
Twilight Sparkle is trying to mend a friendship broken by rash words and a terrible argument, and she has come to the Last Note on more than one occasion hoping to find the courage to do so.
Predictably, that hasn't really worked out.
Maybe she just needs a good drink.
---
Cover Art by Rhealm.
Narcotics tag for alcohol consumption.
Chapters (8)