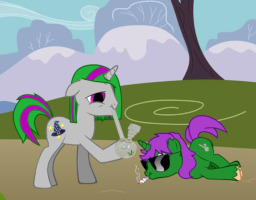 Two best friends Wesley and Matt find a magical lamp with a genie inside and wish to be transported to equestria. But not everything goes swimmingly, at least for six particular ponies.
"Joint" effort from me and Magical Matt
Teen rating for drug use, profanity and violence.
Please note that this story was made by two idiots in a Skype call, who shoved their hilarious ramblings onto a Google doc and made this story.
Chapters (12)