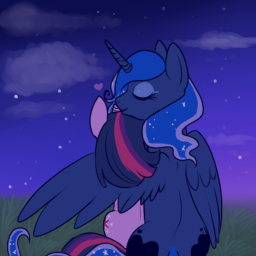 Source
It's been so long since Luna had been banished, but by her banishment, she lost something. A foal. Nightmare Moon had to almost watch her daughter grow alongside strangers and her sister. She is back for the throne and something...else? The tears of the moon should be shed no longer.
---
Cover art source: https://www.deviantart.com/lulubellct/art/Stardust-335929363 ( final change, haha. )
Disclaimer: Yes, I decided to change some things, but they're only minor. I got unhappy with it all quick, so I do apologize. The story itself isn't affected. Also, the cover-art changes are because some turning out too small? Hope nobody minds.
Chapters (6)