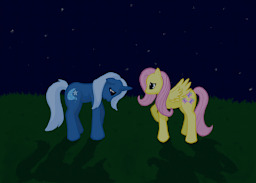 Source
Lurking in the background of the crowd, Fluttershy sees through the guise of the Great and Powerful Trixie.
Sympathizing with Trixie, Fluttershy sets out in the dead of night to see if she can do what she does best: listen. Even if Trixie won't talk, Fluttershy knows she has to try, even if her own timidness threatens to stop her before she gets there.
But helping Trixie doesn't just benefit only her. Fluttershy has problems of her own, and she may have more in common with Trixie than they both realize.
While not very well written (or thought out), it's a story written from the heart, and needed to be written.
Chapters (1)